Main Page | Tom Sawyer & TVA | Pictorial History | What TVA Won't Tell You | What To Do About GPS
Quotations | Press Stories | Links | Corporate Abuse | Power Companies | Abbreviations | PPI | Google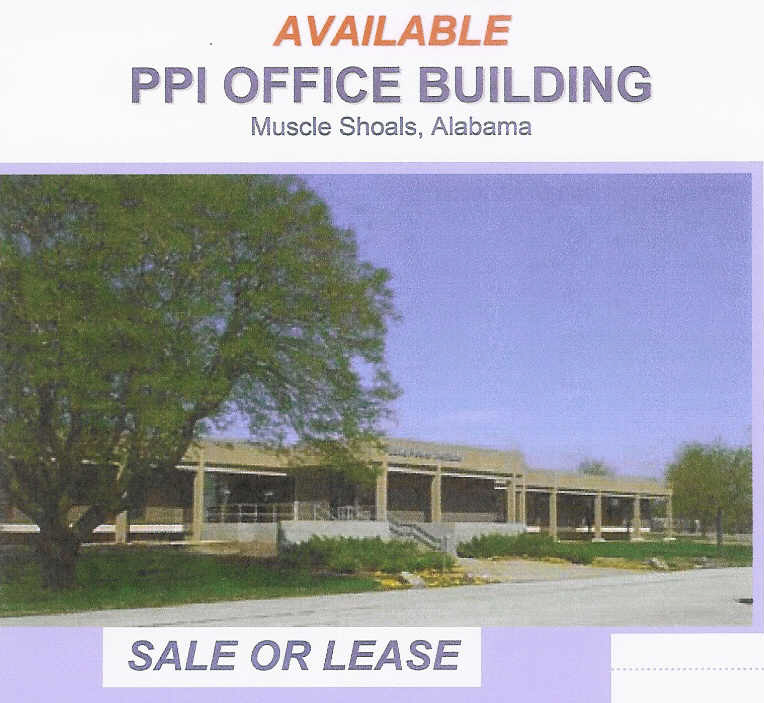 TVA's Public Power Institute (PPI)
I met a traveller from an antique land Who said: Two vast and trunkless legs of stone
Stand in the desert. Near them on the sand, Half sunk, a shatter'd visage lies, whose frown
And wrinkled lip and sneer of cold command Tell that its sculptor well those passions read
Which yet survive, stamp'd on these lifeless things, The hand that mock'd them and the heart that fed.
And on the pedestal these words appear: "My name is Ozymandias, king of kings:
Look on my works, ye mighty, and despair!" Nothing beside remains: round the decay
Of that colossal wreck, boundless and bare, The lone and level sands stretch far away.
-- Ozymandias, a sonnet by Percy Bysshe Shelley, 1818.
PPI

In January 2000, the Tennessee Valley Authority (TVA) created the Public Power Institute (PPI) and staffed it with as many as sixty scientists and engineers. For three years, TVA showcased the PPI and cited field after field in which the PPI was expected to make technological breakthroughs, including renewables and green energy. Then -- sometime in 2003 -- PPI went quietly out of existence, and its principle building in Muscle Shoals, Alabama, was abandoned.
Why? When asked in September 2007, TVA wouldn't say. Perhaps the following quotes will give the reader some sense of
the history of TVA research, including the rise and fall of the short-lived Public Power Institute.
"The [TVA] board is hereby authorized and directed to make studies, experiments, and determinations to promote the wider and better use of electric power for agricultural and domestic use, or for small or local industries, and it may cooperate with State governments, or their subdivisions or agencies with educational or research institutions, and with cooperatives or other organizations, in the application of electric power to the fuller and better balanced development of the resources of the region."
-- Tennessee Valley Authority Act, May 18, 1933.
PHOTO: TVA's facility in Muscle Shoals was constructed as a munitions plant during WW-I and was later converted into making fertilizer.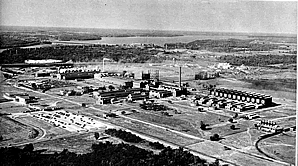 NATIONAL
FERTILIZER
DEVELOPMENT
CENTER

From "Valley Bloom," a chapter of "TVA Heritage," the on-line history of TVA: "When TVA came into being [in 1933], Muscle Shoals' [World War I] nitrate plants were fired up again. They would be used to make fertilizer, but not for the mass market. They'd show private industry the way by demonstrating to the [Tennessee] Valley, and ultimately the nation, the best methods of producing high-quality fertilizer. // TVA Director Harcourt Morgan, an old farmer himself, took charge of the project...dubbed the National Fertilizer Development Center. // By 1934, the NFDC was churning out pumped-up phosphate-based fertilizers whose names sounded as if they were inspired by comic-book heroes: Triple Superphosphate, Calcium Metaphosphate...

ENVIRONMENTAL
RESEARCH
CENTER

"...Over the years, TVA's work on fertilizers came into line with new national goals. By the 1970s, the agency was finding innovative ways to make the production of nitrogen fertilizer less polluting. Environmental concerns grew to be the chief thrust of the program's research—a transition that was completed in 1991, when the Muscle Shoals facility became the TVA Environmental Research Center [ERC]. Now a partner of the agency's Public Power Institute, the center works to transform America's environmental stewardship as thoroughly as it once changed the way farmers cultivated their land."
Entire text of an article on "Research & Technology" in TVA's Annual Environmental Report for 1999: "As a public power enterprise, TVA is uniquely positioned to develop, demonstrate, and deploy new energy technologies for a better tomorrow. Whether it's testing cutting-edge power sources like fuel cells and microturbines or developing award-winning innovations like a frostless heat pump that conserves energy through efficient design, TVA's new Public Power Institute (PPI) is always thinking about tomorrow. // The Institute's mission is to bring new ideas and technologies to the world of electric energy by showcasing those that offer the most efficiency to consumers and protection to the environment. Working from TVA's Environmental Research Center campus in Muscle Shoals, Alabama, more than 60 PPI scientists and engineers use the TVA power system as a living laboratory for research on energy-pollution reduction, sustainable and clean energy, industrial ecology, and energy-use improvement technologies. In partnership with EPRI [Electrical Power Resarch Institute in Palo Alto, CA] and [Tennessee] Valley public power providers, PPI develops, demonstrates, and deploys the most promising of these green-energy systems. // As an instrument of public power, PPI bridges the gap between institutions engaged in basic research and the marketplace, with its preference for tried-and-true technology. 'TVA is uniquely positioned to conduct full-scale, commercially based demonstrations,' says PPI Director Anda Ray. 'People don't want to invest a lot of money in setting up a business until they see that the risk has been lowered. Through demonstrations that use the TVA power generation and transmission system, we can close that gap.' // While helping to introduce new technologies into the marketplace, PPI also looks for ways to reduce or eliminate the environmental effects caused by current methods of energy production, delivery, and use. And it acts as a public power advocate, providing input on regulatory and public-policy issues. [italics added]"
| | |
| --- | --- |
| | N.B. The foregoing two references to TVA's Environmental Research Center (ERC) in Muscle Shoals, AL, may well be the most recent references on the TVA website (except for later references to the cleanup of contamination on the ERC site). Conclusion: The TVA Environmental Research Center was abolished sometime in 1999 or 2000 (three or four years before PPI was abolished). |
Also from TVA's Annual Environmental Report for 1999: "TVA's Public Power Institute represents a return to the original vision of TVA as a proving ground for innovation. We [the SACE] see the Institute as a place where TVA will seriously address the questions of energy and environment in the future. TVA has an opportunity to provide leadership for the nation at a critical time in the electric power industry's history, but this Institute must be bold enough to provide that leadership by not becoming too ingrown and self-serving."
-- Barbara Simpson, Secretary and Treasurer, Southern Alliance for Clean Energy (SACE). What did she mean by "critical time in the electric power industry's history"? How did these references to PPI get into a report for 1999 when PPI was not created until 2000?
From the minutes of the 9th meeting (1998-99 Interim Session), Special Subcommittee on Energy, Kentucky General Assembly, May 21, 1999: "Ms. Anda Ray [future Director of TVA's Public Power Institute] gave a presentation on the TVA's Green Power program [not yet launched]. Ms. Ray defined green power, which is electricity generated by using hydro, geothermal, wind, landfill, biomass, or solar technology. Customers must elect to participate in the TVA's Green Power program, and the program is not part of the renewable portfolio program. The TVA is offering green power to provide customer choice, and as a means of environmental stewardship, which is part of the TVA's mission statement."

PUBLIC
POWER
INSTITUTE

Februry 1, 2000 -- TVA announces the creation of the Public Power Institute (PPI). From TVA News Release, 2/1/2000: "In a ribbon-cutting ceremony late last month, TVA chairman Craven Crowell said the institute's purpose is to assist TVA in its efforts to protect the environment and to be an innovator in the electric utility industry. The PPI will help to develop and promote environmentally-friendly ways to produce electricity. Specifically, the institute will focus on proving the efficiency and viability of potential energy-generation technologies, including the frostless heat pump, constructed wetlands, and a microturbine. Anda Ray will serve as the institute's interim director. TVA scientific and engineering staff will work on research and demonstration efforts. As part of its mission, the institute will seek to form partnerships with utility and research groups. These partnerships will hasten the development of new energy technologies in commercially attractive products for business and household customers. Contact: TVA, Web site http://www.tva.com/ppifeature/index.htm or http://www.publicpowerinstitute.org."
| | |
| --- | --- |
| | April 22, 2000 (Earth Day) -- TVA launches Green Power Switch (GPS), the first green power program in the southeastern US. The GPS logo depicts the sun, the wind, and the "ground" (get it?). GPS will not generate enough green energy to meet "demand" until 2004. By 2007, GPS will provide about 1/20 of one percent of all TVA electricity. |
PPI

Entire text of a New Release issued by Oak Ridge National Laboratory:

"DOE, ORNL, TVA sign energy, green technology agreements.

OAK RIDGE, Tenn., May 17, 2000 — The Department of Energy (DOE), DOE's Oak Ridge National Laboratory (ORNL) and the Tennessee Valley Authority (TVA) today signed two memoranda of understanding to work together in collaborative efforts to develop and deploy sustainable energy technologies. // DOE's national programs and technologies developed by ORNL have been employed by power producers nationally and internationally to improve power production and transmission system longevity and efficiency through the development and use of new materials and state-of-the-art technologies. // TVA's Green Power Switch program offers power produced using sunlight, wind and landfill gas as the renewable energy sources.

"Under the first agreement, DOE will commit to purchase green power for ORNL. With this agreement, ORNL becomes the first directly served industrial participant in TVA's Green Power Switch program. // DOE's Oak Ridge Operations' purchase of non-hydro renewable energy supports Secretary of Energy Bill Richardson's directive for the department to utilize more power from green technologies. // 'Today's signing of this agreement marks a historic moment that will further the use of green power by our nation's utilities as it promotes the nation's energy and environmental security,' said Dan Reicher, assistant secretary for Energy Efficiency and Renewable Energy. // 'I am very pleased to sign this agreement that again places both TVA and DOE into a partnership that emphasizes our commitment to clean air and protecting the environment,' said Leah Dever, manager of DOE's Oak Ridge Operations.

"The second agreement is between ORNL and TVA's Public Power Institute to enter into mutually beneficial collaborations in the field of energy production and use. The agreement will enable ORNL and the Public Power Institute to develop, demonstrate and deploy technologies for efficient and environmentally beneficial renewable energy production and use. // 'TVA and ORNL have a long history of cooperation, and this agreement signals heightened collaborations between us,' said Kate Jackson, TVA executive vice president of River System Operation and Environment. 'This type of partnership is especially important as we face restructuring of the electric industry, so we can ensure that the public benefits from investments in new technology.' // 'This is a great example of using leading-edge technologies from ORNL that can improve our environment for our children's future,' said Bill Madia, ORNL director. // TVA's Public Power Institute was created to formulate new ideas and technologies for producing and providing power while undertaking environmental responsibility and promoting the efficient use of energy through demonstration and deployment projects.

"During signing ceremonies at the American Museum of Science and Energy in Oak Ridge, a living bioenergy crop display, including hybrid poplar, hybrid willow and switchgrass, which could provide raw materials or feedstocks for ethanol, electricity and industrial products was dedicated."
From an undated article entitled "New & Emerging Technologies" on the TVA website: "We launched the Public Power Institute [PPI] to acknowledge TVA's role as a steward of the environment and an innovator in our nation's electric utility industry. We chartered the institute to use TVA's integrated power system as a living laboratory and showcase for innovations and solutions."
-- Craven Crowell, TVA Chairman, 1992-2001.
Also from the undated article entitled "New & Emerging Technologies" on the TVA website: "The Public Power Institute (PPI) is designed to serve TVA and the broader energy community as a means for achieving advancements in energy production and delivery and end-use energy efficiency, in concert with protecting and sustaining the environment. PPI will complement and enhance TVA's role in developing technologies and addressing national issues of air quality, renewable energy supply, and efficient energy production and use. // PPI focuses on technology research, development, demonstration, and deployment in four areas: [1] Environmental Impacts and Reduction, [2] Clean and Advanced Energy, [3] Biomass and Renewables, and [4] Energy Use and Industrial Ecology. Over the past year, PPI demonstrted and deployed innovative new products and ideas in each of these technology areas, including Regenesys, microturbines, green power, and biomass cofiring."
Also from the undated article entitled "New & Emerging Technologies" on the TVA website: "Green Power Switch...was developed by PPI [Public Power Institute in Muscle Shoals, AL] and implemented by TVA's Customer Service and Marketing group [in Nashville, TN]... Several solar sites are located at public schools and science museums... The first wind turbines were erected on the site of a reclaimed coal strip mine on Buffalo Mountain in Anderson County, Tennessee, and were operational in October 2000. The biggest component of the current green power mix will be the electricity powered by landfill gases [at the Middle Point Landfill near Murfreesboro, TN]."
PPI

From an article entitled "4 retain the Benefits of TVA's integrated operations" in TVA's Annual Report for FY 2000:

"The TVA Board participated in the ribbon cutting for the Public Power Institute (PPI) this year [in Muscle Shoals, AL?]. PPI's mission is to develop and demonstrate new ideas and technologies that support public power's role as a power producer, leader in environmental responsibility and promoter of efficient energy use. During the first year of operation, the Institute has accomplished several milestones:

* Introduced the first U.S. program for accreditation of a green power pricing program with regulated and publicly owned utilities.
* Installed TVA's first microturbine, which supplies power to the PPI headquarters in Muscle Shoals, Ala., and a separate installation at the Huntsville Utilities Board.
* Established more than 125 public benefit and technology partnerships with national organizations such as the Department of Energy, American Public Power Association, National Rural Electric Cooperative Association and the Environmental [and] Energy Studies Institute.
* Provided national leadership in the development of the President's Biomass Vision, Roadmap and Strategic Plan.
* Established a simple, easy-to-access Web site that provides a point of entry to TVA for entities interested in helping build alliances that promote improvements in energy production, delivery and use while reducing environmental impacts.

TVA facilitated a team of environmental groups, 12 power distributors and TVA-wide representatives to become the first in the Southeast to offer consumers the opportunity to underwrite the production of power from cleaner, renewable resources such as solar, wind and landfill gas. The program, Green Power Switch, began as a one-year market test and reflects TVA's commitment as a public utility to develop low-impact energy sources. The first renewable resources include three wind turbines near Clinton, Tenn., and 10 solar sites projected to be in service before January 2001."
From an article on "Innovation" in TVA's Annual Environmental Report for 2000: "TVA research-and-development efforts help deliver value to the [Tennessee] Valley. Although it's been in existence only since 1999, TVA's Public Power Institute (PPI) is already filling an important gap between the laboratory and the marketplace. // 'There's limited research-and-development money in the U.S., and as those funds become more scarce it's important to take a collaborative approach to technological advancement,' says [Ms.] Anda Ray, who directs the institute. 'The PPI focuses on research, development, demonstration, and deployment. We take sound science and technologies and move them toward commercialization. We use TVA's facilities and resources as a living laboratory to bring together ideas that improve the way electricity is produced, delivered, and used. And we provide TVA with a policy-centered voice to help build alliances for the promotion of services that differentiate public power from investor-owned utilities.' // One of the institute's current projects already has the potential to make dramatic changes in America's electric power industry. In partnership with Innogy Technology Ventures of Great Britain, the PPI is working to employ that company's innovative Regenesys energy-storage method in a new TVA plant that's slated for construction in northeast Mississippi, beginning next spring [2001]. [italics addd]"
| | |
| --- | --- |
| | Also from an article on "Innovation" in TVA's Annual Environmental Report for 2000: "In another instance of innovation, the PPI brokered a partnership between TVA and petroleum producer BP Amoco that is promoting the use of cleaner renewable energy in the [Tennessee] Valley. To accompany its introduction of a new low-sulfur gasoline, BP Amoco will construct two solar-power-generating gas stations in Tennessee by the end of 2001; another two will be completed within three years." NB: Image shows solar panels on a BP station in Ohio (as projected during a a TVA slide show). No such station was ever constructed in Tennessee, at least not that was made part of TVA's Green Power Switch. |
| | |
| --- | --- |
| | On January 18, 2001 (two days before the inauguration of President George W. Bush), TVA chairman Craven Crowell writes to President Bill Clinton as follows: "Dear Mr. President: ...The purpose of this letter is to notify you officially of my resignation as Chairman and Director of TVA, effective April 16, 2001. ...At the beginning of your administration, TVA faced enormous challenges. Bogged down by a 28-year policy of costly nuclear power construction, we were adding a billion dollars a year to TVA's long-term debt... // TVA's decision to end its nuclear construction program marked the end of one era and the beginning of another—a new era of fiscal responsibility in which TVA began paying down its debt for the first time after 35 years of continuous increases... // ...Environmental policy has been a centerpiece of your administration. As a regional resource management agency, TVA has expanded its efforts to protect the environment even beyond those required by law. Our new clean air strategy helps cities and states served by TVA meet more stringent air quality standards and provide greater flexibility for industrial and economic growth in the region. As examples, TVA has spent more than $2.6 billion to reduce pollution from its fossil generating plants and will spend more than $850 million more in the next few years. TVA has adopted a new shoreline management policy, launched a clean water initiative, and become the first utility in the Southeast to offer its customers electricity generated from "Green Power..." With warm regards, Craven Crowell [underlining added]" |

ENVIRON-
MENTAL
POLICY &
PRINCIPLES

On January 24, 2001 (four days after the inauguration of President George W. Bush), the TVA Board "approves and adopts" a formal statement of TVA's Environmental Policy and Principles . The statement makes no reference to the PPI, ERC or GPS and nowhere contains the word "research." Under the heading of "Innovation and Technology Development," the statement has the following two bullets: "* Use our integrated power system as a living laboratory to showcase energy innovations and solutions. * Develop technologies and expertise to serve the public good by finding new and better solutions for environmental protection." NB: This statement remains on the TVA website in 2008. In fact, it's the #1 item in the "Environmental Stewardship" portion of today's website.
According to the GPS Newsletter for Summer 2001: PPI sponsors a science fair April 27, 2001, at Coalfield School near the Buffalo Mountain Wind Farm at Oliver Springs, TN. TVA provides solar kiosk software on three laptops, and students "enjoy making paper windmills." (NB: This is the first of only two mentions of PPI in the entire series of GPS Newsletters.)
From an article by Jackie B. Smith, B.M., on the website of the International Brotherhood of Electrical Workers (IBEW): "World's Biggest Battery. CORINTH AND TUPELO, MS—Technology with the potential to change the way power systems operate by providing a means of storing electricity for significant periods of time will be on display at the Regenesys Plant, located in Columbus, MS, adjacent to the Columbus Air Force base. // Groundbreaking was in 2001 after TVA signed a contract with INNOGY Technology Ventures Limited of Great Britain, which designed the plant and provided the modules to store up to 120 Megawatt hours of energy. The plant will have 39,000 feet of pipe upon completion. The plant, which should be operating in 2004, will improve system reliability in the western part of the TVA power system by eliminating momentary interruptions and maintaining voltage levels..."
| | |
| --- | --- |
| | Dec. 2, 2001 -- Enron files backrupcy leading to a major financial scandal. Many aspects of the national power industry change dramaticaly. Protected by "the fence" since 1959, TVA is not directly affected, but deregulation and restructuring are set back almost everywhere outside "the fence" (particularly California), and TVA is released from many of the pressures which deregulation threatened to bring about. |
From the cover sheet of "FINAL Environmental Assessment [for a] 20-MW Wind Farm and Associated Energy Storage Facility" dated April 2002: "Responsible Agency: Tennessee Valley Authority (TVA), Public Policy Institute (PPI), Norris, Tennessee. Proposed Action:" The Tennessee Valley Authority proposes to acquire electricity from a windfarm either on Buffalo Mountain in Anderson County, Tennessee, or on Stone Mountain in Johnson County, Tennessee. TVA also proposes to construct and operate a RegenesysTM Energy Storage Facility near the selected windfarm site. The wind turbines would provide a source of power for TVA's Green Power Switch program and the RegenesysTM facility would demonstrate an effective technology for electric power storage. For information contact: Anita Rose, Tennessee Valley Authority, P.O. Box 1649, Norris, TN 37828..."
From a story by Bob Fowler in the the Knoxville News Sentinel, December 5, 2002: "TVA revises plan to make power using windmills: More electricity, but no storage unit for it," OLIVER SPRINGS - TVA has quietly scrapped plans for a $25 million energy-storage system at the base of Windrock Mountain as part of its proposed huge "wind farm'' on adjoining Buffalo Mountain. // At the same time, TVA is expanding the amount of power it wants to generate atop 3,300-foot Buffalo Mountain, and that means as many as 18 new windmills may be spinning there by the end of next year. // TVA spokesman Gil Frances offered no explanation for the decision not to build the Regenesys station that would have stored electricity the wind turbines generated..."
According to GPS Newsletter for Winter 2003: Kurt Williams represents PPI in November 2002 at the dedication of a GPS solar generation site at the water treatment plant in Florence, AL. (NB: This is the second and last of only two mentions of PPI in the entire series of GPS Newsletters.)
From website of the 2002 Wind Summit, Appalachian State University Energy Center, Boone, NC: Rick Carson, "Renewables Operations Program Manager," Public Power Institute, makes a presentation to the summit conference, December 9, 2002, about TVA's wind development on Buffalo Mountain, TN. He makes no mention of the Regenesys cancellation. Click here to hear the audio of Carson's presentation. (NB: This may be the last public use of the name Public Power Institute)
| | |
| --- | --- |
| | From "FEMP Focus," January/February 2003, on the website of the Federal Energy Management Program (FEMP), US Department of Energy (DOE): TVA Power-Storage Facility to Improve Power Reliability. To meet peak energy needs and improve power quality, the Tennessee Valley Authority (TVA) is building the nation's first large-scale, energy-storage facility north of Columbus, Mississippi. The plant, now under construction, will store electricity during off-peak periods, and retrieve it for use when the need for power increases or when a major TVA grid service line outage occurs affecting Columbus Air Force Base and 4-County Electric Power Association customers living near the base. // Located adjacent to Columbus Air Force Base, the facility is designed to store up to 120 megawatthours of energy. Once fully operational, it will be capable of providing power to approximately 7,500 homes for 10 hours or more. Construction is expected to be completed by the summer of 2003 with a start-up and testing period to follow. Designed and developed by Regenesys Technologies Limited of the United Kingdom, the plant's technology is based on regenerative cells that store energy through an electrochemical exchange process. // 'This innovative energy-storage plant is designed to improve power reliability and customer service, have limited environmental impact, and contribute to economic growth for consumers in Mississippi and throughout the Tennessee Valley,' said TVA Chairman Glenn McCullough, Jr. 'TVA continues to set the pace for energy production and demonstrate its role as a national leader in the use of cutting-edge, 21st-century technologies.'" |
| | |
| --- | --- |
| | Complete text of a story in an unidentified newspaper, December 9, 2003: RWE Group Halts Regenesys Project. The RWE Group, the parent company of Regenesys Technologies Limited, has made a business decision to end further development of the flow-cell technology that was to be used at TVAs Regenesys Plant in Columbus, Mississippi. Without the availability of the flow-cell modules, it will not be feasible for TVA to complete the plant. // The Columbus plant was to be the first commercial-sized Regenesys energy-storage facility in the U.S. TVA suspended construction of its plant in May 2003 to incorporate lessons learned at the Regenesys plant under construction in the United Kingdom. Now, neither plant will be completed. // Though unproven, the Regenesys technology may be viable. It encountered a number of engineering difficulties during its scaling-up to commercial size. It's thought that these problems might be adequately addressed with sufficient time and investment of resources. // Although much of the construction has been completed at the Columbus site, none of the key electrochemical components from Regenesys had been installed. TVA will evaluate the site to determine if other technologies can be installed or if other uses for the facility can be found." |
From an article entitled "Partnerships and Public Involvement" in TVA's Environmental Report for 2002-2003: "Another innovative TVA partnership is the Green Power Switch Generation Partners demonstration project. This dual-metering option credits the owner of a qualifying power generation system 15 cents per kilowatt-hour for all energy produced using clean wind or solar power. In 2002–2003, TVA's Public Power Institute partnered with the Department of Energy, Oak Ridge National Laboratory, Habitat for Humanity, Loudon County, Lenoir City Utilities Board, and TVA's energy right program to build three of five planned Zero Energy Buildings (ZEBs) in Lenoir City, Tennessee."
| | |
| --- | --- |
| | From an article on Future Value in TVA's Report to Communities for 2003: "TVA adds value to the [Tennessee] Valley and the nation by its involvement in energy and environmental research. Through its Public Power Institute, TVA is helping bring new ideas and technologies to the world of electric energy. PPI has helped shape government regulations and public policy to lower the cost to society of reducing power plant emissions while assuring that regulations are focused on real health risks. // PPI focuses in part on developing cleaner and more efficient ways to generate power from coal and natural gas. PPI research also is targeted at emerging distributed-generation technologies, such as fuel cells and microturbines. // TVA is promoting green power in the Tennessee Valley. TVA's Green Power Switch was the first renewable-energy program in the region to combine power from wind, solar, and methane-gas technologies. The U.S. Department of Energy's National Renewable Energy Laboratory ranks Green Power Switch among the 10 best programs in the nation for the energy produced and number of customers participating." |
The Public Power Institute was abolished some time in 2003. TVA offered no explanation.
Ms. Anda A. Ray became "Vice President, Environmental Stewardship & Policy, Environment & Research."
Rick Carson became "Program Manager, Emerging Technologies, Research & Technology Applcations."
The PPI office building is now "surplus property" and is advertised for Sale or Lease on the TVA website: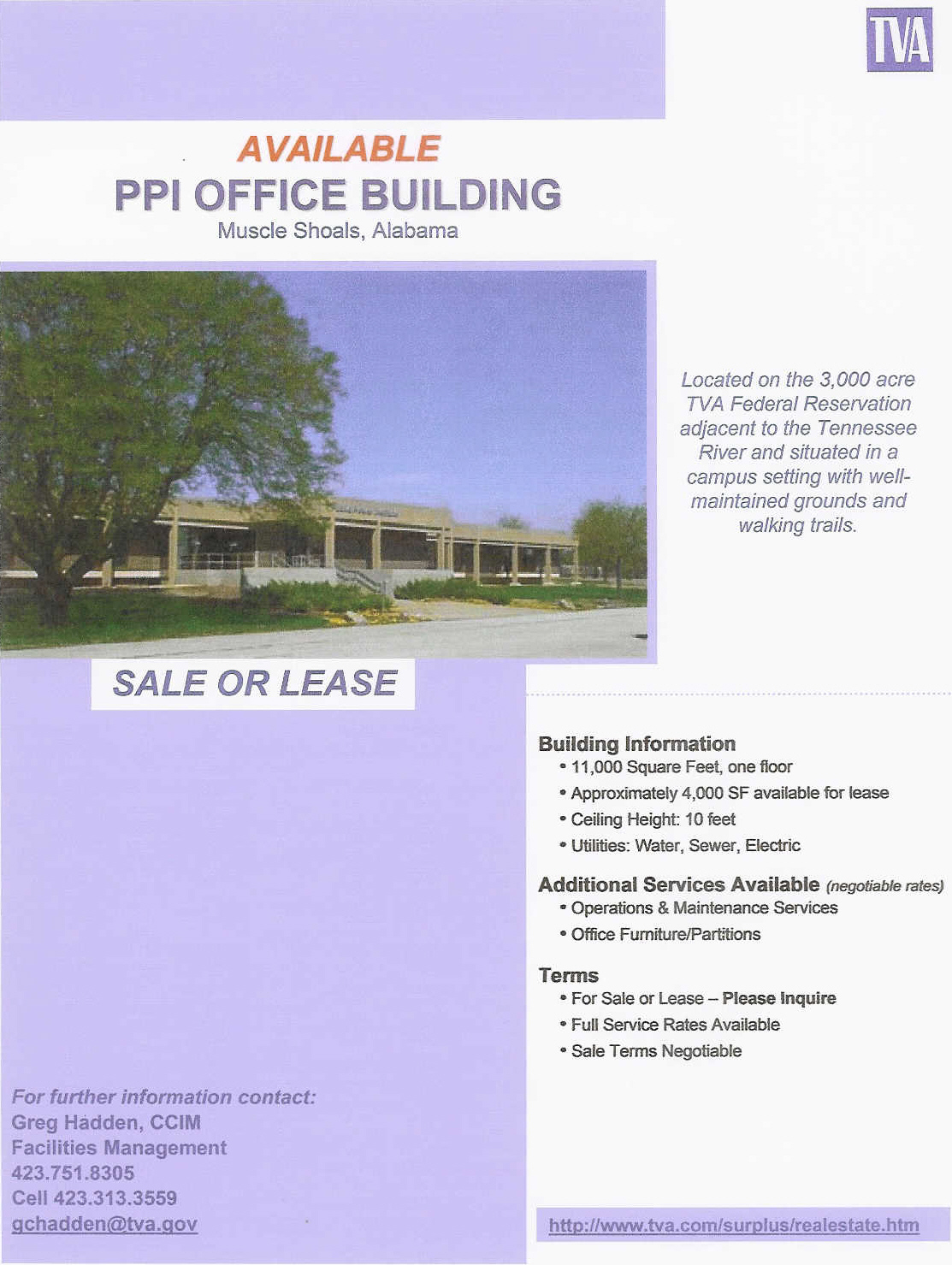 From a UK website: "On August 2, 2004, RWE Innogy changed its name to RWE npower."
From an article published by Energy Central on August 18, 2004: "Tennessee Valley Authority loses millions on Mississippi power. The Tennessee Valley Authority recovered less than half of its $36 million investment in a failed power storage process in Mississippi, according to a financial report released Tuesday. In its latest quarterly report, TVA said a venture organized by the German conglomerate RWE paid TVA $15 million on April 30 for losses from the canceled project. // TVA had invested $36 million in the venture, known as Regenesys, before the project was canceled because RWE didn't want to proceed with the joint venture through its Innogy Ventures Ltd subsidiary. Regenesys was designed to act like a giant battery to store energy and improve the reliability of TVA's electric service in Columbus, Miss."
All four headings of the article entitled "Innovation and Technology Development" in TVA's Environmental Report for 2004-2005: "Carbon dioxide capture... Solar-powered hybrid lighting system... Solar aeration project... Aquatic toxicity improvement..."
From an article in TVA's "Inside TVA" published in May 2007: "Draft strategic plan — keeping everyone informed. Executives and staff recently fanned out across the Tennessee Valley region to brief stakeholders on the draft TVA strategic plan, which the TVA Board plans to consider at its meeting May 31 in Columbus, Miss. // In an early briefing on the draft strategic plan, Anda Ray, vice president, Enterprise Performance & Analysis, hosted a lengthy dialogue with members of the TVA Retirees Association Advocacy Council. The briefing was designed to gather the council members' input and reactions. Council members provided input on the draft strategic plan to Ray on issues ranging from clarification on financing principles to including verbiage to address carbon. // 'The plan is being developed to establish TVA's policy direction for the next decade,' said Ray. 'Driving the need for the new plan are significant changes emerging in the electricity markets as the industry experiences new conditions in a number of areas.' These areas include the following: * Loss of momentum in retail and wholesale competition * Stronger environmental regulations and technologies to help with compliance * Increasing energy demand and developing ways to effectively manage it * Rising fuel prices. [underlining added]"

STRATEGIC
PLAN

The TVA Board approves the new Strategic Plan on May 31, 2007.
-- The strategic plan contains no reference to PPI or ERC.
-- The word "research" is used only once -- in this sentence: "TVA will continue to invest in research and development on low-carbon generation options, carbon reduction, and carbon capture and sequestration technologies to ensure that coal remains a viable part of TVA's diverse generation portfolio [underlining added]."
-- The phrase "Green Power is used only once -- in this sentence: "The Green Power Switch program has helped TVA learn more about the potential for solar, wind, and methane gas generation in the [Tennessee] Valley."
According to the ORNL website: Anda Ray, Vice President of Environmental Stewardship & Policy, represents TVA on October 24, 2007, at the dedication of a new "photovoltaic system" at the Oak Ridge National Laboratory in Oak Ridge, TN.

TVA SLASHES
RESEARCH DEPT.

Late December 2007 (i.e. Christmastime) -- According to the Times Daily of Northwest Alabama, "TVA cut its research and development department from 79 to 33 employes in late December... Of the 33 R&D positions left, roughly one third are in Muscle Shoals..." TVA spokesman John Moulton confirms the cuts, and the paper quotes him as saying: "[The cuts are] part of a three-year bid to reduce [TVA's] operational and maintenance costs. At the Muscle Shoals location, 10 employees were laid off, five involuntarily, while the other five accepted early retirement or severance packages. Thirty TVA researchers found other positions throughout TVA and another six volunteered to leave and found work outside of TVA. While unfortunate that we have to eliminate any jobs, we reduced the number to a total of 10. Of the 33 research and development positions left, roughly one third are in Muscle Shoals, which has a total of 227 employees in the umbrella research and technology applications department. The research and development department will focus on improving operational performance through the development of power supply, transmission and environmental technologies. We are not pulling away from research and development, but refocusing. The staff reductions are part of a TVA-wide three-year plan to cut nonfuel operating and maintenance costs by $430 million annually. The plan started the fiscal 2008 [sic] this past October. The cost reductions won't all come from job eliminations and there was no projected number of layoffs."
"MISSION FORGOTTEN?
The Tennessee Valley Authority's drift away from its role as a multi-function federal agency was further confirmed in December [2007] when 46 research and development jobs were eliminated... What has become of the renowned agency that was a model of government assistance - the kind of assistance that advanced environmentally sound economic development?... The latest round of job cuts emphasizes TVA's drift toward becoming a power company - and little else. At one time, the Environmental Research Center in Muscle Shoals was a bustling place, teeming with scientists. But the facility is a shell these days, with jobs eliminated or transferred to other valley centers. Meanwhile, executive pay and compensation continues to raise eyebrows while the payroll shrinks. TVA had a staff of about 34,000 in the late 1980s. Today, it employs about 12,000 people... No one doubts that TVA needed to trim some jobs in the past; efficiency should always be a goal of any government agency. But there are limits to what TVA can accomplish through job eliminations - especially when those jobs are largely replaced by contract employees. There also is the question of whether TVA is meeting the mandates of its charter, which includes much more than merely selling electricity."
-- Editorial, Times Daily of Northwest Alabama, January 9, 2009.
Anda Ray, Vice President of Environmental Stewardship & Policy, welcomes participants to the "TVA Board Listening Session on Renewable Energy" in Knoxville on March 5, 2008.

---
Please email any comments or questionsto geovisual at comcast.net
Main Page | Tom Sawyer & TVA | Pictoral History | What TVA Won't Tell You | What To Do About GPS
Quotations | Press Stories | Links | Corporate Abuse | Power Companies | Abbreviations | PPI | Google